Recipient of the Stanford International Exchange Fellowship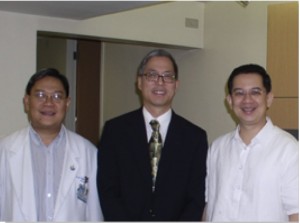 My experience at the Stanford University Medical Center was a very rewarding one. During my stay there, I had the opportunity to learn from two great surgeons – Dr. Christopher Mow and Dr. Stuart Goodman. Not only were my skills in joint replacement surgery vastly improved, but I also learned to appreciate the basic science foundation supporting the surgical principles. In addition, I had the opportunity to work with Dr. Steven Woolson as a co-author on a paper comparing the use of standard and minimal incision approaches for hip replacement surgery. This landmark paper was published in the Journal of Bone and Joint Surgery in July of 2004. In addition, I also presented our work at the Asia-Pacific Orthopedic Association meeting in Malaysia later that year.
But the beauty of my experience goes beyond the training. While I was there, I met many new friends. I was able to see so many beautiful places in California. My mentors treated me more like a friend than like a fellow-in-training.
When I returned to the Philippines, I was asked to form and take charge of the Total Joint Arthroplasty section of the Department of Orthopedic Surgery of the University of Santo Tomas Hospital. Later on, the Chairman of the Institute of Orthopedics and Sports Medicine of the Saint Luke's Medical Center appointed me as the Assistant Head of its Center for Joint Replacement Surgery. The skills, experiences and knowledge that I gained during my fellowship at Stanford have significantly helped me fulfill the duties required of these positions. Furthermore, I am now in a better position to train our resident surgeons in the art and science of joint replacement surgery.
Truly, my experience at the Stanford University Medical Center helped me become a better person in general and a better joint replacement surgeon in particular. This is one experience that I will always cherish. I thank ASIAM for making this possible.