Recipient of the Karaoglu Research Scholarship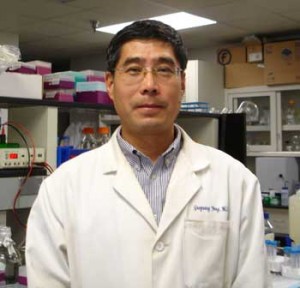 First, I would like to thank Dr. Sinan and Dr. Sema Karaoglu for supporting our research and I am honored to be the recipient of the Karaoglu Research Scholarship.
I am a Research Specialist working in Dr. Woo's Mechanobiology Laboratory in the Musculoskeletal Research Center, Departmetn of Bioengineering, University of Pittsburgh. I and my colleagues, Dr. Rui Liang, Dr. Huinan Liu and Mr. Kwang Kim are doing experiments using Functional Tissue Engineering approaches (cells, bioscaffolds, and growth factors) to enhance anterior cruciate ligament (ACL) healing. My research topic was the study of the effect of procine Small Intestine Submucosa (SIS) hydrogel on ACL fibroblast proliferation and Extracellular Matrix (ECM) production. We made the hydrocel successfully and delivered it to the healing sites with minimally invasive techniques. The growth factors and bioactive molecules such as TGFβ-1, FDF-1, and fibronectin that are preserved in the gel were found to increase ACL cells proliferation and ECM production demonstrating the potential to help tissue healing. Our results suggest that SIS hydrogel may have potential in clinical application.
With the aid of the Karaoglu Research Scholarship, I was able to complete my study. It is exciting to potentially enhance ACL healing. In the future, cells from the healing goat ACL will be used to further examine the benefits from SIS hydrogel.
The generosity of the Karaoglu Research Scholarship has enabled me to complete this research project that will be an important basic study to serve as a foundation for clinical applications of SIS. Finally, I thank the Board of Directors of ASIAM for awarding me this prestigious scholarship.