Recipient of the Stanford International Exchange Fellowship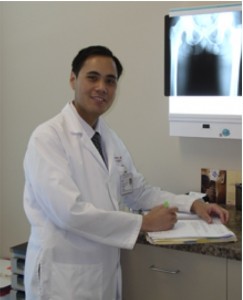 I graduated medical school from Siriraj Hospital, Mahidol University in Bangkok, Thailand in 1999. After 1 year practicing general medicine in Thailand, I realized that Orthopaedic surgery was what I saw for my future. I then completed my orthopaedic residency training from Siriraj Hospital, Mahidol University and received my certification from the Thai Board of Orthopaedic Surgery in 2004. Among all of my rotations, I found myself most interested in total joint replacement. When I was a chief resident rotating at Ramathibodee hospital in Bangkok 4 years ago, I first met Dr. Christopher Mow, who was visiting as part of the Stanford University Orthopaedic International Exchange Program. Our meeting was one of the big turning points in life for me.
Dr. Mow and the Department of Orthopaedic Surgery at Stanford gave me the opportunity to enroll in their program as an international clinical fellow in adult reconstructive/total joint replacement surgery. With this program, I have an opportunity to work with the other teaching faculty, Dr. Stuart B. Goodman and Dr. William J. Maloney at Stanford Hospital.
As a clinical fellow for the past 10 months, I have assisted on more than 200 cases of total joint replacement surgeries and am currently engaged in a research projects about minimally invasive total knee and hip replacement. During my training, I have gained experiences and knowledge through the many cases I have come across. Unfortunately, I can spend only 1 1/2 years in this program and will be moving on to another fellowship program at Case Western Reserve University in Cleveland after I am done at Stanford. Although it is a very short period of time, I have enjoyed spending time here very much.
I wish to express my deep thanks to ASIAM for their support which has given me the chance to enroll in this wonderful and unique program. With all of the knowledge and experiences I am gaining, I look forward to making a meaningful and rewarding contribution to my patients, my residents, my colleagues and to the field of orthopaedic surgery in my home country of Thailand.