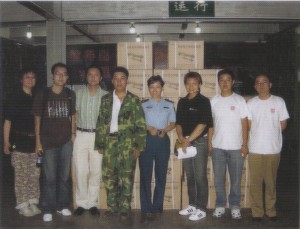 ASIAM in cooperation with the Chinese Speaking Orthopaedic Society (CSOS) raised $10,000 for the victims of the earthquake in Sichuan Province in China. The funds were donated to the StandTALL Organization, under the direction of Dr. Kai-Ming Chan.
The StandTALL Organization helps amputee victims, in particular, getting them rehabilitated and servicing them with prosthetic limbs in order to walk again and resume a daily lifestyle. They have been doing this since before the earthquake, and have provided a worthwhile service to the people of China for many years, but are currently focused primarily on earthquake victims. They also help these victims gain back confidence that they may have lost due to their injuries. They also train medical and allied health professionals in ways to meet the specific needs ot these particular patients.
StandTALL's mission is "The facilitate and provide a comprehensive rehabilitation project for the Sichuan earthquake amputee victims to achieve total rehabilitation and social integration". The organization has provided a myoelectric prosthetic arm, bilateral below knee prosthesis, and high technology prosthetic full leg, among other things. 2004 Paralympic athlete Yu Chui Yi, winner of four individual gold medals, was rehabilitated by StandTALL and is now an ambassador for the organization.