Recipients of the Dr. Ramon Cugat and Dr. Montse Garcia Balletbo Research Scholarship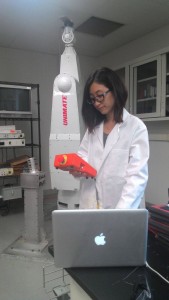 It is my great honor to receive the Dr. Ramon Cugat and Dr. Montse Garcia Balletbo Research Scholarship to participate in the Summer Undergraduate Research Program at the Musculoskeletal Research Center (MSRC) in the Department of Bioengineering at the University of Pittsburgh. I am thankful for the opportunity it has provided me.  I also want to thank my mentors Dr. Antonio Pastrone, Ms. Katie Farraro, Ms. Jonquil Flowers, Dr. Kwang Kim and other staff of the MSRC for giving me a lot of useful advice and kind help.
I participated in the project entitled "Effect of the Fixation Angle on the Kinematics and In-situ Forces in ACL Reconstruction by AMP Technique".  This project interested me a lot, since anterior cruciate ligament (ACL) reconstruction is the most common surgical procedure performed in Orthopaedics and appropriate flexion is critical for a positive outcome after surgery.
As it was my first time to visit the US and the first time to participate in an overseas internship, I was a little bit worried about the life here. But, the worry disappeared once I become a member of the MSRC. We are just like a big international family. This showed me what a team should be, not only work together, but also care about each other.
I would like to thank Dr. Cugat and Dr. Garcia Balletbo for their generous support and Dr. Woo for giving me this opportunity to become a member of MSRC so that I could expand my knowledge and improve myself.  I feel this was an invaluable experience that will benefit my future.