RECIPIENT OF A TRAVEL GRANT TO TRAVEL TO THE MUSCULOSKELETAL RESEARCH CENTER, UNIVERSITY OF PITTSBURGH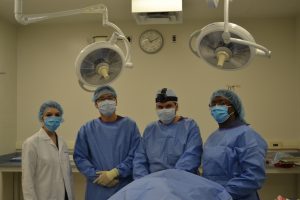 It was my honor to receive a travel grant from ASIAM Institute to come back to the MSRC. I was glad to work on a project to develop a novel, bioresorbable device for mechanical augmentation of an injured ACL, to be used alongside biological augmentation for a synergistic approach to ACL healing. In general, I had the occasion to share my surgical experience with Dr. Chris Chiang, Dr. Katie Farraro and Mrs. Jonquil Mau. It was an opportunity to improve my surgical skills as well as learn about the importance of animal studies for clinical practice.
After I returned back to the University of Sacred Heart in Rome (directed by Professor Giuliano Cerulli), I shared my wonderful experience in Pittsburgh with my colleagues, during our Monday meeting.
I thank Dr. and Mrs. Woo for their guidance and hospitality and the ASIAM Institute Board of Directors for giving me this wonderful opportunity.