Director: Chih-Hwa Chen, M.D.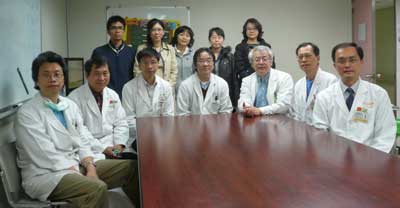 In 2009, we opened our new medical research and animal research center providing more energy of studies.
Medical Research Center
For deeply basic medical and clinical research, instrument and research techniques of decoding the human genome are more refined. Medical Research Center upholds the continuous improvement and innovation, and constantly purchases new equipment. Others such as biomedical engineering, tissue culture, cell cycle changes, cancer research are engaged in medical research center's core technology. Medical Research Center enhances the quality of basic research and is divided into the following areas: cell culture room; chemical room; histology room; centrifuge chamber; flow cytometry room; confocal microscope room; cold room; P2 laboratory; radia- tion isotope room; expensive equipment room; RNA processing room.
Laboratory Animal Center
The importance of animal research increases with time, and appropri- ate planning and management of facilities is guarantee. Not only to protect staff and animal health, but also enable standardization of animal experiments to make stable physiological traits in experimental animals. The Laboratory Animal Center considers animal welfare and hope to meet international certification standards.
Bone team: C-H Chen, C-I Su, C-M Yu, S-W Whu, H-T Liu, C Chen
We use tissue engineering technology to develop a scaffold and stem cells were cultured in this novel composite for bone regeneration. Biomechanical, histological and immunohistochemical examination revealed bone defect repair and regeneration are feasible.
Joint reconstruction team: K-C Wang, H-T Liu, C-H Chen, S-W Whu, B-N Lin
We developed sustaining release hydrogel biomaterials with transforming growth factor-β1. Bone marrow mesenchymal stem cells combined this materials can stimulate the transformation of bone marrow mesenchymal stem cells into chondrocytes. Further, small intestinal mucosa membranes modified with transforming growth factor-β1 can promote chondrocytes proliferation, maintain cell morphology and functions.
Sports medicine team: C-H Chen, C-M Yu, S-W Whu, S-H Chen, C-H Chang
We developed a BMP-2 hydrogel. Periosteal precursor cells combined with the hydrogel to enhance ACL and rotator cuff repair. This treatment can promote the formation of fibrous cartilage. We also developed cell sheet technology to form an artificial periosteum, and it enhance tendon-bone healing.
Spine team: I-C Wang, C-B Wong, S-W Whu, M-Y Wu
We proposed a rat's model of animal experiments. The high-pressure oxygen reduced spinal disc degeneration due to decreased amount of iNOs and IL-1β significantly. We developed human bone morphogenetic protein-2 hydrogel material, combined ligamentum flavum cells, and accorded to tissue engineering to regenerate new bone formation. This technology can apply to spinal fusion surgery in future.
This year, we were very productive, with numerous presentations at all of the main conferences, including ISL&T, TOS, ESSKA, SICOT/SIROT, and APOSSM.